What wonderful fun we had carving pumpkins this evening.  We weren't even sure we'd have pumpkins this year after battling the slugs in early spring, but low and behold Mother Nature blessed our garden with a select few beautiful pumpkins perfect for carving.  While we harvested our orange giants a few weeks ago, tonight was the big event and the creative minds of a five and two year old came out to play.
Just as most childhood Halloween memories begin, the fun starts when the top of the pumpkin is opened to reveal nature's bounty in seeds and what our family lovingly refers to as guts.  While the children may think that the best part of the day has yet to come, I diligently separate seeds from pumpkins dreaming about my own favorite part of the event…the roasted pumpkin seeds.
I can't quite remember if I loved pumpkin seeds as a child or if it is a taste that I developed during my granola hippy years, but roasted pumpkin seeds and even roasted squash seeds are one of my favorite fall snacks.  I can still remember the first time I called my mom and asked her how exactly to make them and her recipe was, well deliciously simple with just roasting and salting.  Needless to say I have grown and so have my tastes and I have experimented with several different seasonings to compliment the seeds already nutty flavor and it is those recipes that I'd like to share with you today.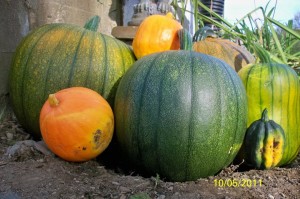 First some quick tips on seed prep.  I only learned recently that if you soak your pulpy seeds in water for a bit, it makes it much easier to separate everything.  Soak them in saltwater for an hour then put them under running water as you work your fingers over them.  The pulp almost falls right off of the seed.  Of course then you rinse and dry the seeds.  Okie Dokie! On to the fun stuff
We like to put honey on our seeds so that the seasoning sticks, but I have heard that others use oil.  Whatever floats your pumpkin boat; as for pumpkin seed seasonings-here are a few ideas, but I encourage you to experiment on your own.  Just add your seasoning then bake your seeds at 300 degrees for about 10-15 minutes.
Cinnamon delight-honey, cinnamon and sugar
Garlic-butter, garlic and sea salt
Hot-oil, cayenne, paprika and sea salt
Wowsers-oil, soy, ginger and red chili
Ginger-oil, ginger and orange zest
Cheesy-butter, parmesan and black pepper
All Natural-just some butter and salt do just fine to the already awesome flavor of roasted pumpkin seeds.
Don't forget that pumpkin seeds and squash seeds are loaded with protein and fiber and make a great snack for giving a bit of extra energy into your day.  They are also great in salads, on toast and anywhere else your taste buds can take you.  Oh I just saw pumpkin seed brittle and think I may be trying my hand at that too.  So happy harvesting, happy carving and even happier roasting your seeds.