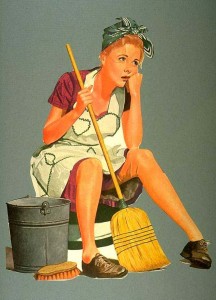 Whether we like to admit it or not, cleaning and home care is a gigantic part of having a family.  Dirt is simply made by all of you being there in one place.  Dishes seem to reproduce themselves exponentially as does the laundry – and if you just let it go, could you imagine?
Yikes!
Instead of living that reality, most of us pick up the rag and broom each day and fight the good fight against the dirt, dishes, laundry and more we create that soils our home.
House work can be overwhelming (dare I say crazy making!) at times and, its not always easy to do it naturally.  Here though you can come hang out with other natural mammas and pappas and learn cleaning tips, natural home care remedies and even just commiserate about the seemingly endless task that is cleaning your house!
It won't  exactly clean the house for you, but at least you'll be able to get your housework done naturally and hopefully, be able to laugh a little bit more about the endless cycle of cleaning living in a family creates along the way