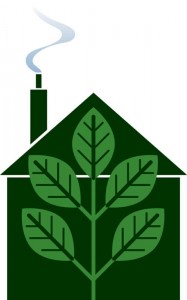 Green building is a wide and varied subject full of endless possibilities for creating a place to dwell that is not only people friendly but earth friendly too.  Learn more about what's possible including green building materials, home designs and construction practices as well as eco friendly finishes and, we'll discuss topics like wind and solar power along with alternative building styles here as well.
Of course to be sure we're "Keepin' it Real", we'll talk about green building problems as well as all those things we wish we were doing to make our homes more eco friendly but have yet to be able to accomplish too; every home is a never ending project after all!
Building a green home or remodeling an existing residence to be more earth friendly is a labor of love and research.  Here at NaturalMammas.com we want to help you find the information you need to make the earth friendly home building process just a bit easier… and maybe even more rewarding!
Got Wood? Then Cordwood Masonry Might Be the Right Green Building Method for You!
Cordwood Masonry is a unique and lovely green building method. Learn more about creating a natural home or other structure out of cordwood, and see some pictures of a few unique cordwood structures to …
Rainwater Collection | A Natural Water System For Any Green Building
Rainwater collection is the water system used in earthships, but can meet the water needs of any natural home. Learn more about rainwater harvesting and how it can enhance your natural home or other g …
Earthships – See If This Green Building Method Might Be For You
Check out all this great information about Earthships – a type of green building method that might just be the perfect style for your natural home! We've got the basics about their history and co …
Recycle Your Glass Bottles To Build Houses and Art
Enjoy some photos of beautiful art and homes made of recycled glass and plastic bottles – a sustainable and unique way to build and decorate a natural home as well as create garden walls and art of al …