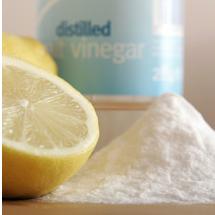 Through time we've learned that the cleaners many have used for a long time are actually quite toxic to the environment as well as to ourselves.  But, have you looked at some of the prices for natural, non-toxic cleaning alternatives?  It could break the bank.
Luckily, there are quite a few different natural cleaning recipes that can be used to replace a ton of cleaning staples.  From laundry detergent to carpet and upholstery cleaner; there are recipes that will help you make it naturally.
Many folks, us here at NaturamMammas.com included, find an added benefit of using these homemade, natural cleaning recipes is that for the most part, these cleaners aren't just earth friendly, they're pocket book friendly; and are often even cheaper than their chemical filled counterparts!
Check out these easy to follow natural cleaning recipes, and, if you have some of your own and wouldn't mind sharing for the greater good of getting rid of these chemical nightmare cleaners – we'd love it!