I've been cleaning with baking soda for a number of years now and it never ceases to amaze me how many areas of the home it's good for.  Some people just don't believe in the power of the baking soda though and insist on expensive (and often toxic) cleaners.
Well, here's some proof of just how powerful baking soda is.
My husband, Mr. T., is a carpenter and often during remodels, he'll find a treasure or two the homeowner doesn't want that he'll bring home.  He amped that up 100% when we were building our house this year, which we're so grateful for.  One of the scores he made was a fantastic stainless steel pots and pans hanging light fixture!
When it came time to have the electrician put it up in our kitchen, I pulled it out of the shed and realized it had quite a thick coating of grease mixed with dust – Take a Look…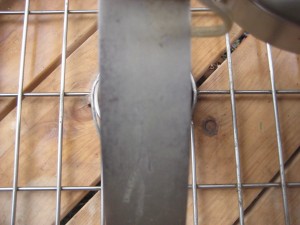 Ewwww is right!  At first, I went after it with my vinegar water solution but, that just smeared it all around – double ewww.
I tried a more abrasive rag, nothing.  Then, I remembered how I have had great success cleaning the oven (greasy and nasty as it often is) with a paste of baking soda and water along with a bit of elbow grease.
So, off for the baking soda I went.  I dumped a bunch into a bowl and then added just enough water to make it into a spreadable paste (not exact instructions I know, but it's really all ya gotta do and make as much or as little as you need).  I slathered that baking soda paste all over the stainless steel fixture and scrubbed with a rag.  This is what happened!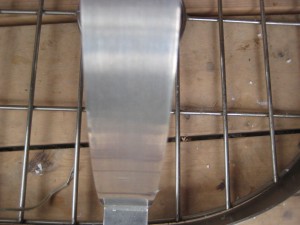 Much Better!  And, here's the finished product after then being cleaned off with a vinegar and water mixture and then fully dried.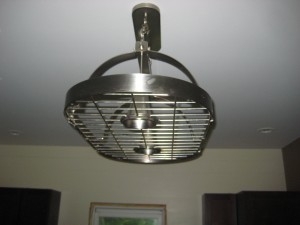 The only warning I will give about baking soda – and I just learned the hard way with this project – DO NOT use baking soda on un-sealed wood – it will leave brown marks.  I got some on our cedar shingles when cleaning this light fixture and then got some on our unsealed butcher block (maple) counter tops and both times it left brown/black marks after reacting with the wood.
Other than that – use baking soda anywhere you'd use an abrasive cleanser as well as in your laundry, your fridge, as a carpet deodorizer/cleaner, to clean your stained coffee mugs, and so much more!!
Nature Is Random…So Are These