I have discovered that some people grew up with and love rhubarb and others never really jumped on the rhubarb boat.  Until about 4 years ago,  I was part of the latter group.  When we purchased our house we were very lucky to have a lot of existing plant life already in place and one plant that grew well and was pretty huge was the rhubarb.  Not having been raised on this herbaceous perennial myself (and I mean I have no recollection of anyone EVER offering me anything rhubarbish EVER), that first year I just let it grow and flower and said nice things to it like…"pretty rhubarb" and "oh my, you are a big fella aren't you rhubarb".  All of my niceties paid off and the rhubarb grew and grew.
By the second spring in our home I was ready to start doing more than growing a luscious green leafy friend so I attempted to cut and prepare a strawberry rhubarb pie that didn't turn out so great and I then, disgruntled, proceeded to gift my rhubarb to those with greater rhubarb power.
Third year started the same, however I shared my rhubarb with a friend and neighbor who returned the very next day with a delicious rhubarb crumb cake.   Thanks Traci! You may be thinking what I was thinking…rhubarb crumb cake? Are you crazy? But man was it delicious.  It was my inspiration to begin working harder to perfect my experiences with the rhubarb and really utilize this yummy fruit [Side note:  I like many of you would have probably categorized rhubarb as a vegetable, but learned only recently that while it technically is a vegetable, in 1947 the rhubarb was declared a fruit for trade operations-who knew?].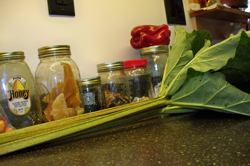 I tried lots of different rhubarb recipes from pies to chicken and really didn't fall as hard for any of them as I did for the rhubarb crumb cake from the friend.  So this year, I decide to focus all my energy on perfecting a recipe of my own and I think I am ready to share my creation with the world.  It is an involved process, but well worth the effort.  Everyone in my family eats the rhubarb crumb cake (even my father when visiting and he was dead set against rhubarb and now you see I wasn't lying about never having had rhubarb growing up).  Within 24 hours of it coming out of the oven the pan is empty and we talk about making more.
I feel it is important to mention that rhubarb has some cathartic properties.  While the leaves are very toxic and should never be ingested, the roots and stem also have mild properties that my affect some more than others.  I consider it a light cleansing type of food.  There are no emergency bathroom visits or anything, but some people are more sensitive than others and I like to make note of these types of things when suggesting that you all try something.  The effects are greatly diminished during cooking so really no reason to worry…although if you are feeling a bit backed up perhaps some raw rhubarb stalk dipped in sugar would do the trick : ) Check out the recipe below, try it, tweak it and enjoy it! (ps..sorry my pan looks so dirty…all I can say is it is old and it is faithful and it really is clean)
Spring Rhubarb Crumb Cake
Author:
www.NaturalMammas.com
Prep time:
Cook time:
Total time:
A light, tart, sweet version of a rhubarb crumb cake
Ingredients
Topping
⅓ cup white sugar
½ cup brown sugar
½ tsp cinnamon
¼ tsp ginger
pinch salt
6 tablespoons butter room temp
3 tablespoons vegetable shortening (or use 8 tblspn butter total)
1 cup + 1tbsp cake flour
½ tsp vanilla extract
Rhubarb
1½ cup diced rhubarb
2 tbspn white sugar
1 tsp corn starch
¼ tsp ginger
2 tbspn flour
Cake
1¼ cup flour
½ cup white sugar
½ tsp baking soda
pinch salt
6 tbspn butter room temperature
1 egg
1 egg yolk
1 tsp vanilla
¾ cup buttermilk
Instructions
Starting with the rhubarb
in a bowl, coat rhubarb in sugar, ginger and corn starch and set aside
Topping
combine sugars, cinnamon, ginger, salt and flour well. cut in butter one tablespoon at a time adding vanilla ½ way through. continue to cut until the topping is the consistency you like...think crumb cake esque
set aside
Cake
combine flour, sugar, baking soda and salt and mix well...add butter one tablespoon at a time to make a crumby batter.
Add egg, yolk and vanilla-continuing stirring will be rather stiff and dry
Add buttermilk stirring until mixture becomes smooth and sort of fluffy.
When cake batter is ready, coat the rhubarb in the remaining flour and with a slotted spoon move rhubarb into cake batter (this is so as not to take all the juices gathered in your bowl). Turn rhubarb into batter gently.
Grease 8X8 cake pan well.
Pour rhubarb cake mixture into pan. Cover in crumb topping and place in 325 degree oven. Cooks for about 55 - 60 minutes. Let stand for 30 minutes before serving. Sprinkle with powdered sugar if desired when serving.
Nature Is Random…So Are These