Quick and healthy don't always go together – but more and more natural mammas and pappas are making it happen!
When it's 5:00 and I still can't figure out what's for dinner, I used to reach for the frozen fish sticks or chicken nuggets – not anymore!  We've got a stash of go to quick, easy recipes the whole family enjoys.  One of our favorites, and probably one of the most healthy, is veggie stir fry with brown rice.
Stir fry is such a great natural family meal because it's so versatile.  Got a garden bursting with _____ veggie – make a stir fry with it.  Joined a CSA – you can make a different stir fry each week with whatever they give you.  Cleaning out your fridge and have some lone veggies?  Use them up in a stir fry!
Of course like all other meals you could actually plan a specific type of stir fry, and you can add meat too.  Or give it a bit of oomph while keeping it vegetarian by adding some seasoned tofu or tempeh.
Best of all, if you have a large family like we do, stir fry is excellent because everyone can have what they want usually with minimal fuss.  Add some soy sauce, hot sauce, or other seasonings you like and you've got a meal any natural family will love; and that's easy to prepare, even in a pinch!
The one thing is it does take about 20 – 30 min to cook the brown rice.  One of the ways around this issue though is to make a bunch of brown rice one night then store the extra in the refrigerator.  That way it's ready and waiting for whatever veggies you want to ad, as well as for other meals too like bean and rice burritos, or as an awesome side dish.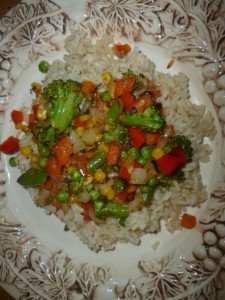 You can also make stir fry quicker and easier by cutting up the veggies in advance (a great idea for making salads easier too).  You might also consider keeping a bag of organic frozen mixed veggies on hand; which will cut your prep time down considerably.
Best of all though, everyone will enjoy this yummy family meal, and, you can even puree some for the baby if needed!  Plus, this meal is super affordable, a great way to use up left overs, it's nutritious, and, we'll just say it again, it's EASY!
Fix up a stir fry tonight and see what we mean!  Most likely, it'll become a staple on your weekly natural family menu too.
PS – we're feeling lazy – and are wicked busy right now too (like always!!) – so we didn't include a recipe.  While it's pretty basic, if you feel like a recipe for stir fry will help let us know and we'll add one right away!
Nature Is Random…So Are These